Not many people have the kind of year that Sleman Aldib experienced in 2016. It was filled with more twists and turns, more trauma and joy, than many of us experience in a lifetime.
In January 2016, Sleman was a 21-year-old Syrian refugee, newly arrived in wintry Canada with his parents and sister, fleeing from war in his beloved country.
Only twelve months later, in December 2016, Sleman found himself on stage at the Martha Cohen Theatre in downtown Calgary, welcoming a full house to enjoy Alberta Theatre Projects' latest production.
"The first three months here, I was not happy at all," recalls Sleman with a laugh. "I kept thinking that Calgary is such a freezing city, and such a boring city. I wanted to go home to Syria, even if there is a war there. I feel very differently now!"
How did his life change so dramatically in less than a year? Those who know him well speak of his gutsy determination, and his willingness to accept help.
Sleman and his family are Catholic Christians. He grew up in Suwayda, a small, modern and multicultural city in Syria between Damascus and the border with Jordan. He got bit by the "acting bug" as a young student.
"There was a theatre company that travelled to schools and helped students put on on a play," says Sleman. "I got a part, and the director really liked me. He encouraged me to improvise in my part. I loved that feeling of being on stage and making people laugh. That's when I decided I was going to be an actor. "
Later, Sleman enrolled in a university in Latakia in Syria, on the Mediterranean coast. He took two years of an engineering degree, and during this time also enjoyed a free actors' training program in Damascus.
"I learned so much in those acting classes," says Sleman. "I was hoping that some day I could enter the Theatre Program at the University of Damascus. But then the war came."
During the first few years of the war in Syria, Sleman's hometown of Suwayda was not very affected. That all changed one frightening day.
"There was a huge explosion, right behind our house in Suwayda," Sleman explains. "We lost a lot of people in our neighbourhood. My dad had been applying for us to move to Canada for about eight months, but there had been no progress in the application. When the explosion happened, he said, "That's it – we're leaving." So we went to Lebanon."
The family had an aunt in Lebanon, and they moved into her small house with her and her family. It was a difficult situation. Many other Syrians were pouring into the area, and employment of any kind was hard to find. Sleman, his sister Faten and his parents were in Lebanon for less then a year when they were accepted to go to Canada, co-sponsored by a family at Calgary's Our Lady of Peace Maronite Catholic Church, and the parish of St. Joseph's Roman Catholic Church. However, Sleman's other sister, her husband and their baby had to stay behind in Lebanon. (In the fall of 2016, they were able to join the rest of the family in Calgary.)
Though Sleman had learned some English at school in Syria, he enrolled in English classes at Calgary's Mt. Royal University. He studied hard and did very well in the courses. He also started working at a café, and later at a bakery.
"Another thing I love is taking pictures," says Sleman. "In Syria I took some photography courses. So with money I earned from my job at the café, I bought myself a nice camera."
Sleman volunteered to take photos of events at two Arabic-speaking churches in Calgary, St. Basil's Melkite Greek Catholic Church, and Our Lady of Peace Maronite Catholic Parish. He made a Facebook page for his photographs, and started adding photos of Calgary as well as some of his photos from Syria…and his images started getting attention.
"I was invited to be assistant photographer at an Arabic wedding," says Sleman, "and they even paid me! It was so great – the first time I had been paid for photography. And the couple was very, very happy with my photos, and encouraged me to keep going."
Sleman was invited to assist the photographer at another wedding, and soon was doing professional wedding shoots and photos of families on his own. He had business cards made up, and Sleman ALDib Photography was born. He continued to become even more engaged in his new community, volunteering his photography skills for church and cultural events, and also at Calgary's FCJ Centre, where they have many guest speakers and workshops. His English improved by leaps and bounds.
One of his sponsors invited him to volunteer with the Alberta Association of Immigrant Serving Agencies (AAISA), helping them to translate information on their new website into Arabic. The website was designed to provide important information to new refugees living in Alberta about issues such as tenant rights and finding employment.
The launch of AAISA's website was featured in an article in the Edmonton Journal and other outlets in the Postmedia Network. Sleman was interviewed in the article about his experiences coming to Canada and some of the challenges he and his family faced. He also happened to mention in the article that he had been involved in acting in Syria.
Someone at Alberta Theatre Projects (ATP) saw the article and noticed the line about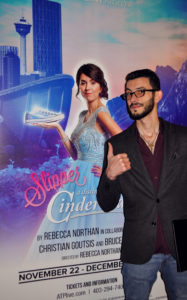 Sleman's acting experience – and decided to give him a call. He was asked to help distribute free tickets to Syrian refugees at a special presentation of ATP's production of the Christmas play Slipper: A Distinctly Calgarian Cinderella Story. They also invited him to come up on stage at the Martha Cohen Theatre before the play began, to welcome the audience in Arabic in a "pre-show" talk.
"You could say that night – Dec. 8, 2016 – was my first moment on stage in a theatre in Canada," says Sleman. "I couldn't believe it. I was holding a microphone and talking to this huge audience in Arabic. The staff at ATP was so grateful, and they kept telling me how they loved the sound of my Arabic words. It was such a good experience for me."
It also gave Sleman the encouragement he needed to get more involved with Calgary's theatre community. He took the initiative to start volunteering with another local theatre company, One Yellow Rabbit, helping them distribute tickets and do Arabic translation when needed. And ATP continued to stay in touch with him, recently inviting him to participate in an online theatre workshop they are producing.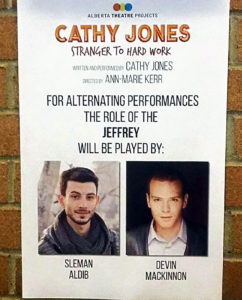 During Calgary's annual High Performance Rodeo arts festival in January 2017, well-known Canadian comedian and actress Cathy Jones, of This Hour Has 22 Minutes fame, came to town. She was bringing her acclaimed one-woman show Stranger to Hard Work to the festival, and needed a local actor to play the short, non-speaking part of "Jeffrey, a handsome young man". ATP tapped Sleman and another young Calgary actor to take turns playing the part during the play's 15-night run.
"When they asked me, right away I said of course I would," recalls Sleman. "It was a 30-second part. At the very end of the play, I had to grab a wrapped brownie from Cathy Jones, open it up, look at her with surprise, and then look at the audience. That was it. That was the whole role. But I was so, so excited!"
By this time Sleman was taking a full-time English language and academic skills course at Bow Valley College called "Youth in Transition". As he puts it, he "made" all his fellow students come to the play, along with all his other friends and family.
"Cathy Jones was so wonderful," says Sleman. "The first time I saw her, I didn't know what to expect. But she was really friendly and happy to meet me. She gave me a big hug. Every show, I got the chance to study her performance and watch how she acted. It was a really incredible learning opportunity for me."
With that experience under his belt, Sleman has been invited to take part in a general audition call at ATP this coming spring. He is now working on two monologues, one in English and one in Arabic. When ATP found out that he enjoys singing, they asked him to work up a song in Arabic for the audition as well.
Sleman has also embarked on writing his own play, which will have its premiere at Westview Baptist Church's "Syrian Culture Night & Fundraiser" on March 11, 2017. The fundraising event will also include Syrian music, dancing and food.
"It's a short play about Syria, and about the refugee experience," says Sleman. "I am the writer, the director, and the main actor. The play's title is Jasmine, which is both the name of my girlfriend in the play, and also refers to Damascus. Damascus is famous for all the jasmine flowers growing there. The play is based on my own experiences and feelings, and those of my friends and family. I hope it will make people laugh, and maybe also cry."
Never one to sit still, Sleman also has plans for another interesting project this spring.
"I want to do a social experiment," explains Sleman. "Along with some of my friends, we will go out into the streets to talk to ordinary people about the whole Syrian refugee situation and find out what they think. Then we'll give them a chocolate or candy to thank them for their time. We want to film and edit the interviews and put them on YouTube. I hope they will be interesting and funny…and very popular!"
Sleman's advice to new refugees emigrating from Syria?
"First, you must work hard at learning English," says Sleman. "It's important to meet Canadians and become involved in their culture. Get out and volunteer. Be brave. Decide what you want to do, and tell people you are the best person to do that. Tell them you are the only person who can do that."
He also advises that when obstacles come between you and your dreams, don't let it stop you – just try another path.
"I had a lot of people tell me there's no way I would get a chance to do any acting for a long, long time in Canada," says Sleman. "But it wasn't true! Don't let anything stop you. Don't let the war in Syria stop you. Be strong and have courage."
Sleman shakes his head in disbelief and delight when he looks back on his first year in Canada, and hopes that his experience will be an encouragement to others.
"I've always wanted to be an actor, and now it's starting to happen. I wanted to be a photographer, and now I have a photography business, a Facebook page, and clients," says the excited young man. "I'm so happy to be here, and I'm really grateful to all the people who have helped me and my family."
Stay tuned, Canada, for "Sleman Aldib: Year Two".
Be sure to visit Sleman Aldib Photography
And check out Westview Baptist Church's website for more information on their March 11 "Syrian Culture Night & Fundraiser".