It's a strange thing to wake up one morning to a world you interact with much like most other people do, and then go to bed that same day having suddenly become an activist.  It was just that fast for me.
It was last June when a co-worker put a newspaper article in front of me and said, "I think you should read this." The photo attached to the article was of a First Nations man with several children huddled around. All were weeping in a terrible grief. The man in the photo turned out to be Stewart Redsky, a member of Kekekoziibii First Nation, better known as Shoal Lake 40 First Nation. They are a small reserve settled on an island in Whiteshell Provincial Park, about seventy miles from the city of Winnipeg. The children were those of his community, some being his own grandchildren.
One hundred years ago, the community at Shoal Lake was forcibly moved onto a peninsula. The reason? So that the traditional land they had lived on since t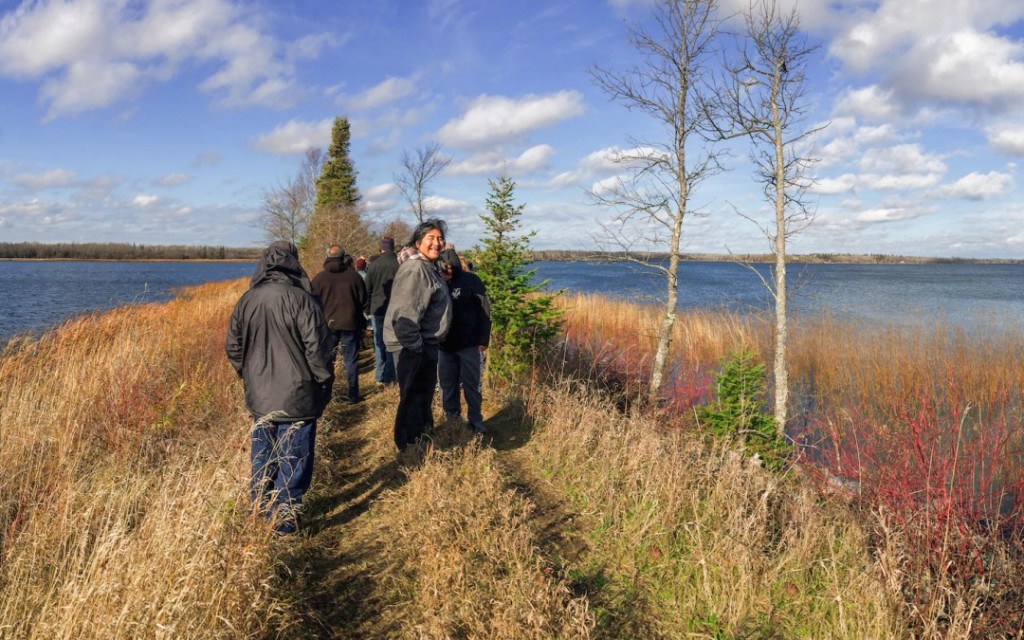 ime immemorial could be used as the site for the intake of an aqueduct that would carry clean water to the growing city of Winnipeg. The construction of the aqueduct also required that a diversion canal be dug across the base of the peninsula, thus creating an artificial island out of the community's new home. And there they have lived since, without so much as a bridge that could connect them to a road that would give them reliable and safe access year-round to the resources and infrastructures (jobs, health, education, sanitation etc.) that the rest of the nation assumes to be fundamental to modern living.
The photo that drew my attention and aroused my empathy was taken the day that the community heard some big news. After several years of hard and careful negotiating with three levels of government for funds to build a bridge and a road to the Trans Canada Highway 17 miles away, the federal government announced its refusal to commit to the road's construction. Instead, they were allowing for only modest sums to further "study" the situation and options, all of which had already been studied to death with solutions clearly identified.
"Someone should start a petition," said my co-worker, who immediately started looking into it. In almost no time the petition was up online, I had signed it, and suddenly found myself plunged into the world of "activism", whereas only an hour before, that possibility wasn't even close to being on my radar.
I started going online to research and better understand the situation.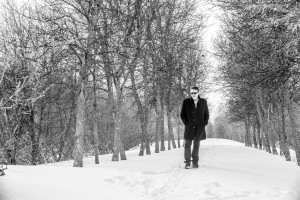 It turns out that in a turn of bitter irony, the lake that provides Winnipeg's water, and which surrounds the community at Shoal Lake 40, has in more recent times become polluted as a result of modern human activity. Winnipeg resolved the situation by building a water treatment plant, but Shoal Lake 40 has been on a boil-water advisory for eighteen years now. The federal government, which has a fiduciary responsibility to the community, has justified not providing a water treatment plant for Shoal Lake 40 because the construction costs are deemed too high without a road to bring in materials and machinery.
The resulting hardships the community has had to face have included the deaths of several of its members who tried to cross the water to the closest community in the spring and autumn, when the ice is not thick enough to be crossed safely. It is no stretch of hyperbole to say that the very water which makes life possible in a city – and may I add a city that provides the nation with a significant tax base, strategic resources and infrastructures – is tinctured with the tears and the blood of Shoal Lake 40 First Nations.  It is a manageable situation that violates all pretenses to justice, neighbourliness and basic human decency.
I soon discovered that a small group of concerned Christians was forming and I joined what was to become Churches For Freedom Road.  Our strategy was to educate the churches of Winnipeg about the situation, and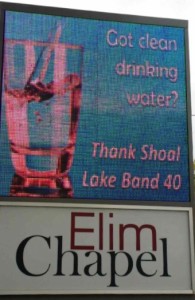 have every church with a changeable street sign broadcast the words "We support Shoal Lake 40 Freedom Road."  As photos of the signs were collected on our website (www.churchesforfreedomroad.ca) we drew attention to the growing solidarity movement through social media and by alerting journalists and broadcasters who began to report on our activities. The federal election was looming and we knew the Conservative government's position was vulnerable. We hoped that since a significant percentage of the Christian community has traditionally tended toward a conservative ideology, and therefore a significant vote base for the party, that we could make this an election issue that would be of concern to the Conservative party.
We soon discovered several other solidarity groups forming, and joined a coalition of solidarity called Friends Of Shoal Lake 40.
We polled all the running candidates for the national election on their position on Shoal Lake 40 and published the results on our website. We wrote shareable articles and developed shareable social media memes. We produced an open letter to the Prime Minister. We joined ranks in a public march. We made phone calls and wrote letters to various officials of all three levels of Government (federal, provincial and civic). Eventually we helped organize a day-long trip for Winnipeg city councilors to visit Shoal Lake 40 alongside members of the various solidarity groups. This resulted in a much stronger show of commitment from city officials including the Mayor himself.
All this was done with the support and in close consultation with the leaders at Shoal Lake 40 itself, which is a remarkably savvy group of folks committed to a non-violent, respectful but unrelenting strategy for their community's survival.
In the end, the election resulted in a change of Government, with key persons who had been known to be against the road's construction having lost their seats. On December 17th, at the Manitoba Legislature, all three levels of Government gathered behind the leaders of Shoal Lake 40 First Nations as the announcement was made for commitment of funds for the building of Freedom Road.
And that day was the day my life as a Christian activist ended…for now at least.
At the end of it all, the struggle for Freedom Road forged new friendships across cultural, religious, and ideological divides. For many of us, it increased our capacity to listen to, learn from, and honour the other. Personally I gained a much deeper appreciation for public work, especially for politicians and the myriad complexities they must somehow discern and balance. And in the end, I was button-bursting proud of the Christians I walked alongside in this effort. I grew up in a Christian culture that offered salvation as as an escape from earth.  Whatever part of that happens to be true, it certainly also means participating with God in bringing a little of heaven to this planet and its inhabitants, whom, after being called into being, God looked upon and remarked how very good it all was.
Most recent new works available at stevebell.com: I Will Not Be Shaken – A Songwriter's Journey Through the Psalms, a new book by Jamie Howison and Steve Bell with companion CD.