Blessed be the breadmakers of la belle France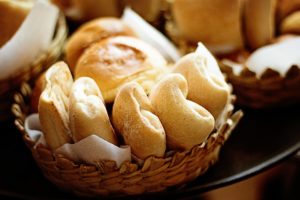 who rise before dawn to plunge their arms
into great tubs of dough. Blessed be the yeast
and its amazing redoubling. Praise the nimble
tongues of those who gave names to this plenty:
baguette, boule, brioche, ficelle, pain de campagne.
Praise the company they keep, their fancier cousins:
croissant, mille feuille, chausson aux pommes.
Praise flake after golden flake. Bless their saintly
counterparts:  Jésuit, religieuse, sacristain, pets de nonne.
Praise be to the grain, and the men who grew it. Bless
the rising up, and the punching down. The great
elasticity. The crust and the crumb. Bless
the butter sighing as it melts in the heat.
The smear of confiture that gilds the plane.
And bless us, too, O my brothers,
for we have sinned, and we are truly hungry.
Used by permission of the author, from her new book Les Fauves (C&R Press, 2017)