Working in the field and contributing to the rhythmic swish-snick sound of scythes is an almost meditative experience. It isn't an experience I expected to have when I started farming, but what followed was even more surprising, and a real gift. I stopped to sharpen my scythe while the rest of the cutters carried on, and in that moment I was greeted by another noise, a gentle thrum. It reminded me of a relaxed hive of bees, although not quite as loud or intense. I looked down for the source of the noise and discovered the clover at my feet was awash in bees. They were happily dancing about between the blossoms that, due to the thick stand of rye, had only moments before been inaccessible to them. It was as though in cutting and stooking the rye we were preparing the table for the bumblebees. The rye itself had already blessed us: with its amazing ability to turn pasture to garden, with harvest work that could be shared with friends and family in community, with an abundant harvest that would feed many, and with funds from its sale for the Canadian Food Grains bank. All these are something to be thankful for, an amazing blessing; but God extended grace further and provided a last supper to the pollinators who were getting ready for the winter.
Reflecting on those bees, I started to realize how expansive the Gospel really is. I could see the Spirit working in that moment, and it helped confirm that my wife and I were headed where the Spirit was leading. It also helped set the direction for our farm. Almost a decade ago my wife and I started growing much of our own produce. Friends had a family farm and invited us to join them in their annual epic gardening efforts. Pretty soon we went from gardening to market gardening, and then to farming. Food security and creation care became part of our ministry. That moment with the bees, everything before, and a great deal since has been instrumental in my understanding that salvation is for all creation. (H. Snyder). God doesn't intend to make all new things, but to make all things new. (Rev.21:5) I grew up in the church and for almost 40 years it had never occurred to me that eating, apart from possibly communion, was an act of faith. But, when you think about it, eating is the most basic way we interact with creation, and as a relational act, also with God – and the ways in which we produce our food become moral questions and matters of faith.* They are opportunities to extend grace and promote justice.
If how we eat is missional, then how we grow our food is too, and as a farm family everything we do matters far more to God than I realized a decade ago. With this in mind, my wife and I now describe our farm as 'faith based' and renamed it Little Loaves Farm. The farm is our missions field and our work is to extend God's grace out to the 160 acres we have been blessed to care for. This means working to create Shalom, both increasing the depth and breadth of life and allowing it to flourish. Through the bees the Spirit really showed us that the farm, depending on the practices employed, can bless more than just those that it feeds. At this point, you might be thinking, "Well, that all sounds lovely and theological, but practically what does that actually mean? How does faith enter all parts of the farm, and not just the 'spiritual life' of the farmers?" It starts with asking basic questions about all parts of the operation – does this practice, policy, institution, relationship, restore God's intention for life/us? (J. Wilson, pg. 69). Then through prayer, study, reflection, and community we make decisions that affect the economy, ecology, and community of Little Loaves Farm. This discernment, paired with the character of the land, impacts the farm's scale, the equipment we use, what we raise, and our community.
Little Loaves Farm is situated on 160 acres of knob and kettle land featuring wetlands, forest, pasture, and now gardens. It is located in Bearberry, the plateau just north of Sundre, Alberta. When first looking at the site, Wendell Berry's writing came to mind. He talks about an appropriate scale, of eyes to acres, how there are no sacred and unsacred spaces, and how natural spaces are domestic spaces for the creatures that live in them. With that in mind, we decided that the SW corner, closest to the road, would be the most heavily used. Other areas get less intensive use, and the NE third is left primarily as quarters for wild inhabitants, only grazed after August 1, if at all. It takes time to learn the land, what it can grow and provide, and what we need to do to help that happen. This means we must be creative and keep our scale small and manageable. Of course what we consider small in Alberta would be large to farmers in the Maritimes, or on the West Coast, or in much of the rest of the world. God didn't put Adam and Eve in the garden and tell them to just leave it alone. They had a role to play, as do we. For instance, we selectively cut trees and replant to increase tree species diversity, a cornerstone of bio diversity on site. We take measures to repair livestock damage and halt erosion, and protect and enhance the areas near the wetlands.
Little Loaves Farm is a mixed farm, not a common sight on the prairies anymore, where an industrial approach and economies of scale make specializing more attractive. In our case working with limited space and on mixed terrain means that we have a market garden, we grow grains, and we raise yaks. There are great microclimates on our site providing several acres where we can grow market garden vegetables. Other areas that can't be effectively fenced for grazing but also have reasonable climate are given over to grains and field crops. Then there is the pasture and the yaks. The yaks are from Thompson Small Farm and we care for them together. This allows Rita and I to benefit from Thompson Small Farm's experience while we build up our own herd. Much of the farm slopes north, and while not ideal for growing crops, provides lovely pasture for the yaks. You might be thinking that in the midst of cattle country, yaks are a strange choice. I expect many of our neighbors would agree with you! The Fortis utility crews who hooked up our power this summer have taken to calling our site 'The Yak Shack'. In fact, the yaks are an incredible blessing. Just as rye and potatoes or oats and peas, companion planted, provide ecological services as well as food, the yaks help heal the land while providing the farm with a potential income from both meat and fiber. Yaks are remarkably well suited to our site, since they are smaller and lighter than cattle – 800 lbs. versus 1,100 lbs. for a mature female. This means they have far less impact on our seasonally wet pasture. They also convert pasture to meat more effectively than cattle, valuable on our marginal soil. They only need about a third of the water that cattle need. They birth easily, resist predator pressure, and, unlike bison, are domesticated. Besides which, they are a pleasure to behold! Beauty is important and they add a good deal of it to our farm.
Working as we do, conforming our activities to the site and working multiple small plots scattered across our rolling terrain, is a particular challenge when it comes to equipment. Most farm equipment isn't well sized to fit our site, so we have had to look to other jurisdictions where small farms and small plots are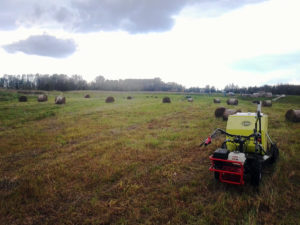 common. This has meant adopting the type of methods you might see in Northern Italy, Austria, or Switzerland. We do use scythes, but more often the BCS Walking Tractor, which powers our baler, hayrake, mowers, mulchers, plows, tillers, and chipper. When the 13.5 horsepower provided by the BCS isn't enough, we get help from our neighbor and partner Jonathan Wright of Thompson Small Farms. You could say that his team of four Clydesdales only represents four horsepower, but it doesn't really work that way. They are smarter than the BCS and have almost infinite torque. As I mentioned previously, cutting the rye with scythes is a blessing, as it is communal work. The horses offer the same thing. They are, indeed, partners in the work.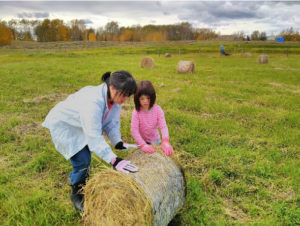 This scale not only permits us to utilize small parcels of land well, it also fosters community in many ways. Smaller equipment means that children can be included and add their efforts, and their play, to the day's work. Our small scale also means that we often need and appreciate more hands, which creates opportunities for people to come together to share the labour. And it means that one can see and hear the little things. You don't necessarily scare off the Sandhill Cranes with whom you are sharing the fields, and you also have time to notice and enjoy the frogs that live there (contributing in their own way to the harvest through their song and by eating insects that we don't want). The small scale simply creates space.
On the subject of community, we do operate in community in all areas. I admit I am not really an extrovert. Growing up, I always thought someday I should do a missions trip, and my wife thought the same. We figured that to grow God's kingdom we would have to go and evangelize folks face to face. I am happy that now we are growing the kingdom by working with yaks and vegetables.
Our triune God is relational, and our farm is too. We do educational activities on site and as outreach, in which we often mix sustainable agriculture, food security, and the theology of creation care. For instance we helped run a food security workshop called Sharing Bread for the Anglican Church of Canada's Primates World Relief and Development Fund. We work with A Rocha, a Christian environmental stewardship organization, and helped put on a creation care conference called Grounded early in 2017. Recently we hosted a field day on sustainable grazing for the Grey Wooded Forage Association. We collaborate with the County, ALUS (Alternative Land Use Services), Ag Alberta and others in environmental restoration work. A few times a year we share the work of the farm with others, when participants not only get to contribute to the harvest but also get to share a meal fresh from the field.
God has put so many great people in our lives as well, helping us with everything from humane animal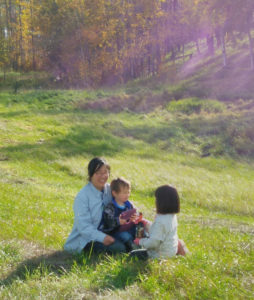 handling to dugout design. You simply can't have a healthy, vibrant farm without community. With larger farms and fewer farmers, and with more and more people living in cities, we have to build new networks and communities. What might have once existed isn't there, but that doesn't mean community can't happen. It just takes intention.
That intentional community-building brings us back to the beginning of this column. If what we eat is a moral or even missional act, an action that God cares about and that continues the redemptive work of Christ, then engaging with local producers, buying from them to enable their work, and even visiting and helping on the farm is as central to our faith as evangelism. Just like the story of the bees and the rye, it is the sort of intentional activity that brings with it a host of blessings for the whole family; the grace of God extended through food, labour, and community.
*Food production entails at every stage judgements and practices that bear directly on the health of the earth and living creatures, on the emotional, economic, and physical well-being of families and communities, and ultimately on their survival. Therefore, sound agricultural practice depends upon knowledge that is at one and the same time chemical and biological, economic, cultural, philosophical, and (following the understanding of most farmers in most places and times) religious. Agriculture involves questions of value and therefore of moral choice, whether or not we care to admit it. (E. Davis)
Sources: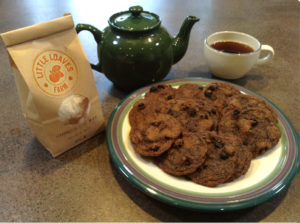 Davis, Ellen F.Scripture, Culture, and Agriculture: An Agrarian Reading of the Bible, Cambridge University Press: 2009
Snyder, Howard, Joel Scandrett Salvation Means Creation Healed: The Ecology of Sin and Grace: Overcoming the Divorce between Earth and Heaven Wipf & Stock: 2011
Wilson, Jonathan R. God's Good World. Reclaiming the Doctrine of Creation, Baker Academic: 2013
Key Scripture References: Rev 21,22, Hebrews 1:1-3, Col 1:15-20, Rom 8, John 1: 1-18
Visit Little Loaves Farm website and on Facebook:
Also check out YYC Growers & Distributors (Our products are sold as part of their Summer Harvest Box CSA program and their market tables.)