St. Joseph Church was built on the northern outskirts of Calgary in 1912, during one of the city's first "boom times", when the population was spiraling upward and the mood was one of great optimism. Now, over 100 years later, the church still proudly stands as a beacon of faith on Calgary's north hill, but its location is now considered "inner city" – on a tree-lined street in the middle of a pretty neighbourhood aptly named Mount Pleasant.
St. Joseph's Parish today is a vigorous and active community, rich in cultural diversity. In 2012, as part of the parish's 100th anniversary celebrations, a Centennial Prayer Garden was completed. Designed by parishioner Michael Parker with the support of an advisory committee, it was created to be a serene space for private reflection and meditation, as well as a gathering place for parish activities.  Passers-by in the neighbourhood are always welcome to come and enjoy a few moments of quiet respite.
The Garden's pathways form a cross with a circle in the centre, echoing the Celtic cross on the church's steeple. Prominently elevated at the focal point of the crossed pathways sits the statue of St. Joseph the Worker and the Child Jesus, surrounded by an attractive, soothing water feature. The statue was donated by the Catholic Women's League Unit at St. Joseph's, and represents the talents, gifts and hard work that have nurtured the parish community over the past 100 years.
To further create an inviting atmosphere, the grounds of the Centennial Prayer Garden are thoughtfully furnished with seating, lighting and landscaping. A time capsule, provided by the students of St. Joseph School, was placed in the ground immediately behind the statue to represent the future of the parish. A decorative handcrafted metal fence borders the Garden, created and donated by Gianna and Mario De Capite.
Framed by the beautiful red brick walls of the old church, the Centennial Prayer Garden is an urban oasis that brings glory to God and honours the many parishioners of St. Joseph Church who have faithfully worshiped and served here for over a century.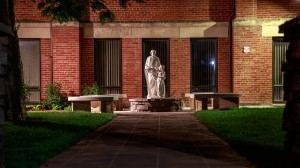 St. Joseph Church is located at 640-19 Ave. NW, Calgary. Visit www.stjosephcalgary.com for more information.