From an early age, Larin Harp has had two passions – flags and vehicles.  
Born with profound deafness and autism, and later developing extreme tunnel vision, Larin spent countless hours of his childhood drawing pictures of vehicles. (And, of course, many of his vehicles sported flags, flapping in the wind!) Only members of his family were able to understand his communication style, and he was often alone, sitting on the sidelines. But Larin found freedom in his art…in fact, his first name means "freedom" in Gaelic.
Larin and his family, who live in Texas, discovered the Imagine Art community in Austin. Imagine Art is a Christian ministry that empowers artists with disabilities. Art assistants and trainers at Imagine Art helped Larin with his adaptive needs, to allow him to explore new avenues of artistic expression. With only a pin-dot of available vision, Larin now uses a high beam light to see his work.
Larin is an active member of the Imagine Art community, where he can be found working in their studio three days a week. His work is often on display in the Imagine Art gallery. Larin creates three distinct bodies of artwork: pastel drawings, clay cars and fused glass Texas flags.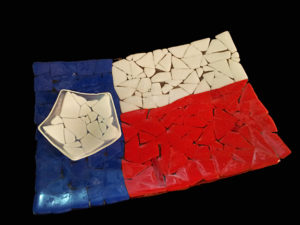 But cars remain his principle passion. When given the opportunity, Larin loves nothing better than studying the design, mechanics and features of all sorts of vehicles. He particularly enjoys studying the vehicles of loved ones, including the dings and quirks of each individual vehicle.
Larin now lives independently in his own home in Austin with the support of  caregivers, and leads a busy life. He swims at the YMCA, assists children in a Lego creative arts group at his local library, and helps teach sign language at his home and in area daycare centres.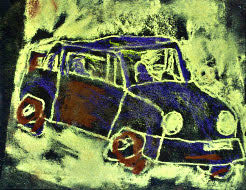 On Sunday, Larin faithfully attends Austin Spirit Church for the Deaf. When visiting his parents, he is welcomed home to Celebration Church in nearby Georgetown. He also participates in Special Friends Church on a monthly basis where he has become well known for his skill at playing 'air drums'.
Larin also loves to dance with his family and perform Scottish Celidh dances with the Austin Scottish Dance Society. He can often be seen twirling a lucky lady around the floor, finishing the dance with a deep bow and a tip of his imaginary hat.
A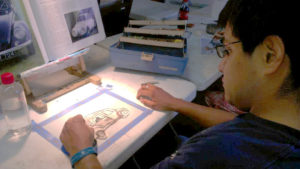 rt has played a big part in prompting Larin beyond his usual passive communication style to more expressive language. And Imagine Art has given him a sense of community and excitement about the future. With his big smile and trademark belly laugh, Larin is a fixture at the studio, excitedly signing stories about his latest art ideas.
Larin's website, Expression of Freedom, is the home of his micro-enterprise. Visitors to the website will find photos of Larin's art products for sale. He would love you to check it out.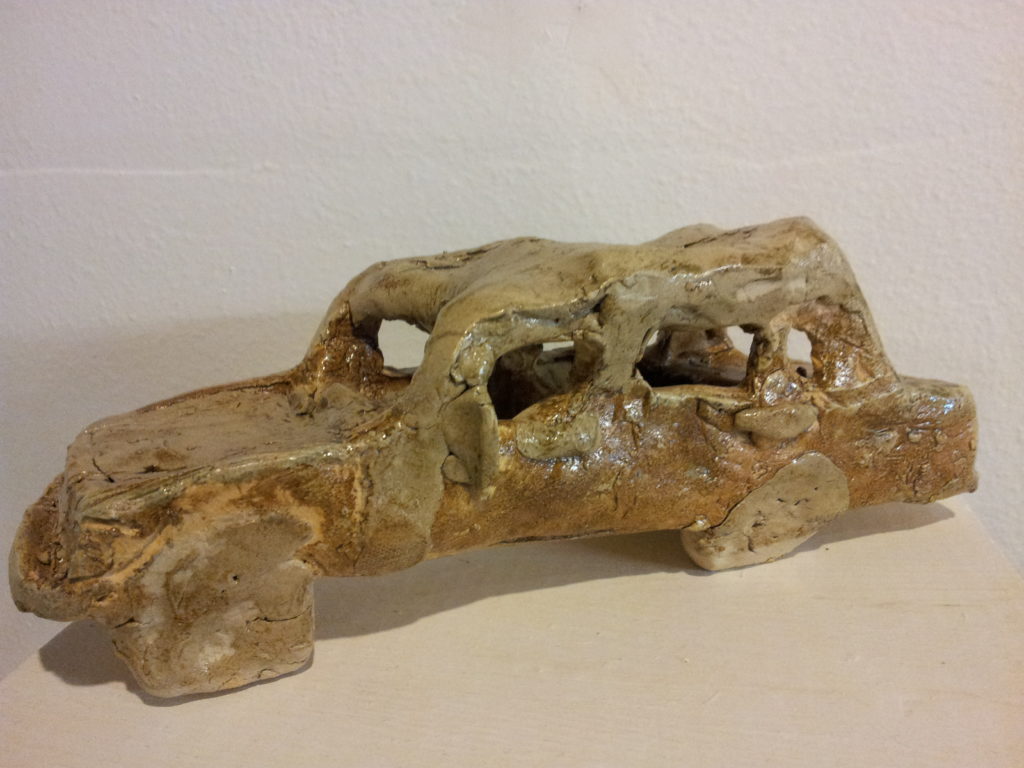 All artwork in these images by Larin Harp.  All images courtesy of Larin Harp and Imagine Art.