by Anne Lamott
Riverhead Books; 2017
Review by Laura Locke
I first discovered Anne Lamott's writing quite a few years back, when I came across her 1999 book Traveling Mercies: Some Thoughts on Faith. Reading her book freed me up to admit that faith doesn't always give us easy answers and happy endings. She helped me understand that the gift of a writer is honesty – shedding light on the truth of ordinary living, exposing the moments we all share of awkwardness, humiliation, distress, hope, love and unexpected joy. Her writing makes me laugh – out loud.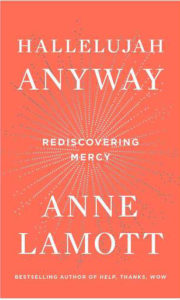 I have thoroughly enjoyed many of her books written since 1999, and even the ones written before, which I have been happily discovering at the library. This spring brings the publication of her latest offering, Hallelujah Anyways: Rediscovering Mercy. Hallelujah, indeed.
This slim book is a meditation on the importance of extending and receiving mercy, which Lamott defines as "radical kindness". Drawing, as usual, from the culture around us, as well as ruthlessly exploring her own life experiences and inner landscape, Lamott also delves quite extensively into Scripture. In fact, she travels along a number of "walkways to awakening".
Each chapter is like a new reflection from a Mercy Workshop (the title of the first chapter). A chapter called "Life Cycles" takes us on the journey we all make, from cute amazing baby to wobbly unlovely senior. It's a beautiful, haunting rendition of how our lives start out so bright and open, and then – drawing on her own experiences – get damaged and narrowed and hardened.
Another chapter focuses on the importance of friendships as a way to practice giving and receiving mercy. It includes this radiant passage:
"I've lived through times when a connected group of humans in grief and shock stayed together as things unscrolled, when a person was dying too young, or after. What could we do? We showed up. When our best friends' teenagers disappeared, when their fathers lost their minds, or their babies or mates were in the ICU. We lay beside them in bed and held them in our arms. We brought the bereaved a sandwich. We let them vent, maybe watched a little TV together. We offered our presence, our warm bodies, and the willingness to feel like shit with them. One even bigger gift: no snappy answers. We could nod, sigh, cry with them; maybe go to a park. Against all odds, these things work, however imperfectly, when a closed system breaks open and turmoil ensues: this collective, imperfect, hesitant help is another kind of miracle."
Being a collector of quotes and poetry, I'm happy that her book includes many lovely little bits of both. I also appreciate how she often unpacks and comments on them. For instance, she offers this quote from Rainer Maria Rilke's poem I am Much Too Alone in This World, Yet Not Alone: "I want to unfold. I don't want to stay folded anywhere, because where I am folded, there I am a lie."
Lamott comments: "We got folded by trying as hard as we could to make everyone happy, to please everyone, and to fill every moment with productivity. Our grown-ups said this would bring approval, and approval would bring satisfaction, and they would like us more."
Or this quote from Krishnamurti, the great Indian teacher, who when asked what was the secret to his serenity, said, "I don't mind what happens"– to which Lamott makes this lovable observation: "This is so not me – I mind his having even said this. I want to change, but it hurts; waking up is miserable, and transformation is terrifying."
Lamott knows about weakness and limitations and failure, and insists that they don't need to hold us back from doing good things. In one very moving part of the book she tells the story of how she made a "snarky" comment in haste on Twitter that brought "disgrace" upon her and her family. And then she relates how humility and asking forgiveness and being open to mercy from others helped her breathe again.
Her re-telling of stories from Scripture are packed with nuanced wisdom, as she looks at the parables of the Prodigal Son and the Good Samaritan, and other narratives such as Jonah; Mary, Martha and Lazarus; Naomi and Ruth; and Joseph and his brothers. In one chapter, Lamott discusses the story of Jesus and the Samaritan woman at the well, who was excluded from her community because of her 'reputation':
"Jesus said to the woman at the well, "Be like me: be true to who you really are; be in truth; share; and above all, try to forgive." This is such bad news for those of us who would like to even the score at some point. On bad days we can still feel, "All my enemies are drowning and it's the best day of my life." Jesus says, "That's fine, honey, nice try; I still love you, but maybe you would consider restarting the forgiveness stuff? Maybe you might practice inclusion?"
Lamott's candour-filled writing has a powerful way of showing us that we don't need to be incredibly spiritual, or be in an extraordinary setting, to "experience transcendence and God and restoration, and the inclination to serve those who are suffering." We just need to be awake. As she insightfully puts it:
"This all looks so ordinary that you might miss it. It's so daily. You don't need special music and a Hollywood production and the Mormon Tabernacle Choir. You don't need the Canadian fjords, the Grand Canyon, a newborn baby, although these can be helpful. You don't need to go to Senegal. Immediacy and inspiration can be found in the dairy aisle at Safeway. It probably looks like people saying hello, making eye contact, letting others go first. Ordinary human daily ways, but moving more slowly."
In a recent interview published in RealSimple magazine, Lamott was asked what she'd like her readers to take away from her new book. She replied, "That there is hope. That to be instruments of mercy fills us up. And that sharing love and passion heals us, and gives our lives cohesion, direction, and meaning."
For me, Hallelujah Anyway was itself an instrument of mercy, and like a long drink of fresh water, it filled me up.