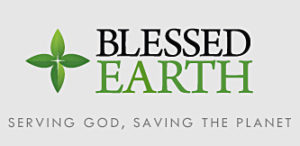 About a dozen years ago, Dr. Matthew Sleeth was at the peak of his career as an ER physician and chief of staff of his hospital. He and his wife Nancy, a former communications director in a Fortune 500 company, had all the things in life that are supposed to make you happy. When a series of disturbing events happened in their lives, they started looking deeper for answers to life's big questions. One slow morning in the ER, Matthew noticed a Bible in the patient waiting area…so he stole it and started to read. In the Gospels, Matthew came face to face with Jesus, and one by one, he and his whole family became believers. In 2008, Matthew and Nancy founded an educational nonprofit called Blessed Earth that encourages responsible stewardship of our resources. In the past nine years they have spoken at over one thousand church, educational, media and environmental groups, written a number of books, and produced a twelve-part film curricula, "Hope for Creation" and "Hope for Humanity".
More than a decade ago, when Matthew and I first moved to Wilmore, Kentucky, we prayed that God would give us an opportunity to make a difference in our new hometown. The very next day a neighbor, Andy Bathje, knocked on our door. Andy told us about Ichthus, one of the largest Christian music festivals in the country, which was happening in Wilmore the following week. Knowing our passion for creation care, he mentioned that none of the waste had ever been recycled during the event, which drew 15,000-20,000 attendees each year. Would we be interested in partnering with him to change that?
"Yes! We'd love to help!"
We purchased 50 durable bins, recruited local youth volunteers, and went to work. Those were some of the loudest, hottest, most gratifying three days I've ever experienced. We recycled 50,000 bottles and cans in that first year alone.
With Andy's help, Blessed Earth continued to increase the recycling at Ichthus. We distributed free water to attendees who wanted to use reusable water bottles, encouraged recycling with prize drawings, and educated interested attendees about recycling and creation care. More and more people came to volunteer; some band members even pitched in.
When Andy became the executive director of AdventureServe Ministries, he incorporated recycling into his mission experience for youth. We gave the recycling bins to AdventureServe so they could continue the work we'd begun together.
Several years ago, AdventureServe hosted the youth of Shepherd of the Prairie Lutheran Church from Huntley, Illinois, who participated in the recycling efforts at Ichthus as part of their learning about creation care. They were so inspired that they contacted another festival closer to home, Lifest.  The organizers had no objection to free help reducing their trash. They have now been recycling at Lifest for three years.
After a decade of use, the recycling bins we purchased were still going strong, but the lids needed to be replaced. Blessed Earth donated new bin lids and an eye-catching cage for Lifest 2016 attendees to deposit bottles in; participants wrote their names and phone numbers on their bottles, which served as "entries" into prize drawings.
This year, AdventureServe staff members joined 35 volunteers from Shepherd of the Prairie to manage the recycling campaign at Lifest. Over the 3-day event, they filled two 20-foot long dumpsters with plastic bottles and collected fifty pounds of aluminum. According to the local Solid Waste Department, the youth have collected 4.92 tons of recyclables over the last three summers. This is equal to saving 10,000 pounds of oil.
A decade ago, Matthew and I never would have guessed that a prayer to help our community would turn into an opportunity to help recycle bottles and cans at events throughout the country. We are especially grateful for people like Andy who model how our faith is connected with everything we do – including the fate of a pop bottle!
All images courtesy of Blessed Earth